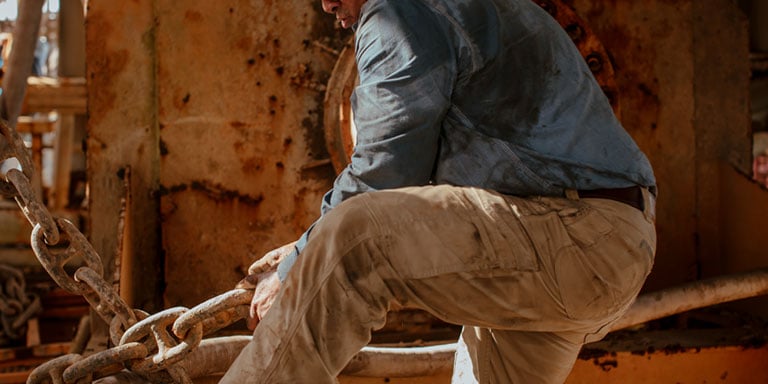 Choosing work pants isn't quite the same as buying regular, everyday trousers. There's a lot to consider, and a lot of things that set work pants apart from other pants: the materials need to be able to hold up to rigorous wear and tear, the fit and style need to allow workers to move fluidly on the job, and the features need to be functional and efficient. To make buying work paints easier, we put together an all-encompassing guide to help you find the right pair.
Work Pants Materials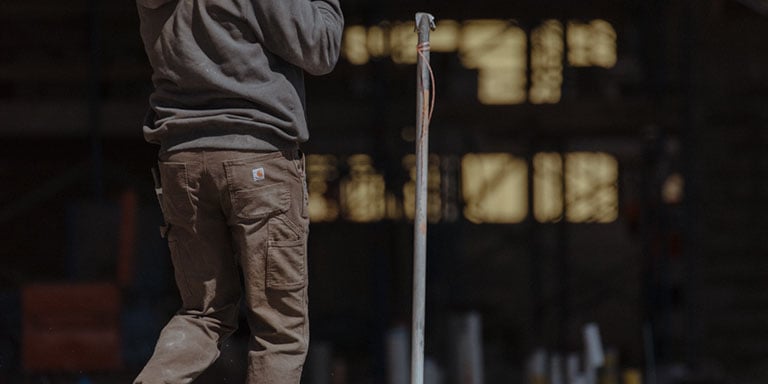 It's uncommon to find a pair of work pants made 100% from a single material. Those styles of pants are usually reserved for very specific use cases in specific industries. More commonly, work pants feature a blend of fabrics to offer the best qualities of each material. The following are some time-test work pants materials and the purposes they each serve.
Cotton
As the most used natural fiber in clothing today, it's no wonder that cotton is present in many pairs of work pants. Work pants made from cotton are highly breathable. At the same time, cotton is a heavyweight material, great for keeping warm in cool weather. Cotton also acts as the base for other fabrics, including denim and duck. Cotton does have some downsides, though: it's prone to shrinkage and wrinkling, so keep that in mind. Cotton also tends to dry slowly when it gets wet, taking a long time to dry, even out in the sun.
Denim The foundation of blue jeans, denim is a tightly woven cotton fabric that offers some of the very best in rigid durability. The stiffness of denim may result in some decreased comfort, but the sturdy, difficult-to-damage construction is often worth the payoff to workers who require the very best in toughness from their work clothing. Still, denim is often mixed with other materials to compensate for the lost comfort while maintaining its rigidity. You can never go wrong with a pair of denim work pants.
Cotton Duck Another tightly woven cotton fabric, cotton duck (like denim) is known for its toughness; in fact, it's even tougher. A type of canvas fabric, it's so durable that it's used in products like hammocks and sailboat sails. While denim tends to soften a bit through use and multiple washes, cotton duck maintains its soundness. It's very resistant to tears and provides ample protection from the wind.
Polyester
Polyester is a strong, durable fabric material, especially when compared to cotton. Known for its quick drying and stain-resistant qualities, it's an excellent choice of work pants fabric when the job will be particularly messy. On top of that, polyester maintains strong wrinkle resistance, sure to keep your appearance neat and professional.
One of the biggest drawbacks of polyester is that it doesn't breathe as well as cotton. As a result, polyester is often mixed with cotton to create work pants that are tough, breathable and quick-drying. Most manufacturers craft work pants with a poly/cotton blend.
Spandex
A material known for its ability to flex greatly while still returning to its normal shape and structure, Spandex is used sparingly in work pants, but to great effect. It's usually woven together with cotton or polyester (or both) to offer increased flexibility and mobility. It's also often added to the waistband of a pair of pants — an area that usually needs some more stretch to maximize comfort.
Cordura
A material renowned for its toughness, Cordura is highly resistant to abrasion and tearing. It's a great reinforcing material, typically added to high-stress areas like the knees and seat to prevent damage over time.
Insulating linings
Sometimes your job takes you out in the cold. If that's the case, it's best to wear a pair of work pants with some insulating material. Some pairs come lined with flannel to help keep wearers protected from the cold. Other pants, like cotton duck and denim offer great protection from the wind. This is essential for cold-weather workers, as cold and wind are an uncomfortable combination.
Work Pants Fit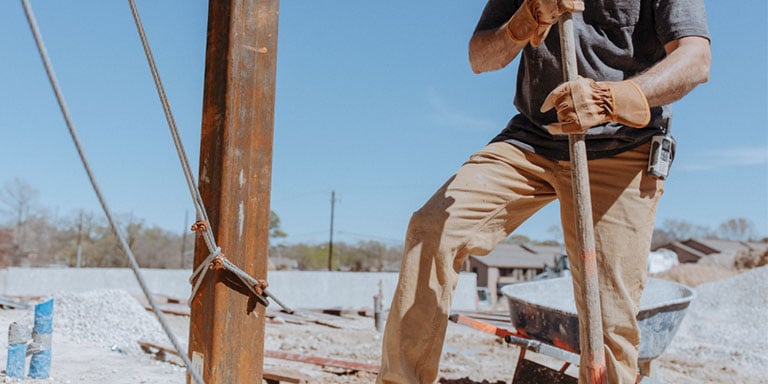 The way your pants fit simply comes down to preference, but much like materials, an awkward-fitting pair of pants can derail your entire work day. That's why it's important to understand the different ways work pants fit and to decide which style works best for the conditions you will be working in.
Relaxed Fit Work Pants
Simply put, relaxed fit work pants are made for comfort. They offer a roomy fit in the seat, thigh and ankle, eliminating any awkward stiffness that may come from a tighter-fitting pair of pants. Some workers don't prefer the "bagginess" of relaxed fit work pants, so keep that in mind when you buy.
Regular Fit Work Pants
Regular fit work pants don't offer as much room in the seat and thigh as relaxed fit pants do. If you'd like to avoid baggy pants, though, original fit work pants may be the right choice. They're easier to move in without being overly tight.
Slim Fit Work Pants
When people hear "slim fit," they often think of skinny jeans. This is not what slim fit work pants are; they simply offer a bit of a tighter, more efficient fit in the legs. They're not overly tight though — the leg openings should still offer plenty of room to fit over your work boots. If you prefer a more modern-style fit (and especially if you don't want baggy work pants), slim fit work pants are the way to go.
Work Pants Features
Today's work pants are loaded with features to help you work efficiently and effectively on the job. The features you select depend entirely on what your job requires. Luckily there are plenty of options out there; we'll touch on and explain the purposes of many of them.
Tool Accommodations
Hammer Loops
Hammer loops have been on work pants for decades. These ingenious fabric attachments are essentially a belt loop on your hip to store a hammer (or a variety of other tools and attachments) for quick, easy access.

Utility Pouches
Some work pants come with utility pouches that fold out from the front pockets. These pouches can be used to store tools, hardware or whatever else you may need to keep close at hand.
Pockets
Front Slash Pockets
Virtually all work pants come with front pockets; that's a given. Some, however, implement the innovative slash design. These front pockets "slash" down at an angle, offering easy access to the pockets while keeping contents secure.

Cargo Pockets
These versatile pockets are found around the thigh area. They're great for storing any small essentials you may use throughout the day. Cargo pockets close either with buttons or hook and loop for secure storage.

Watch Pockets
Ever wonder what that tiny "pocket within a pocket" on your jeans is for? It's called a watch pocket and was widely used when workers still carried pocket watches. Nowadays it's mostly present for nostalgia and tradition, but it can still store the odd small item or two.

Back Pockets
Pockets on the backs of pants aren't usually as durable as front or cargo pockets; they're highly susceptible to ripping. As a result, most work pants feature reinforced back pockets to assure they stay usable.

Knee Pad Pockets
A countless number of jobs require workers to work from their knees, and this can take its toll after a while. To help stave off pain and long term injury, some work pants come with pockets for knee pads to provide extra protection.

Cell Phone Pockets
Everyone carries a cell phone nowadays, and work pants manufacturers have responded by implementing pockets specifically for them. They're usually found on the thigh and are pretty low-profile.
Belt Loops
Wide Belt Loops
Tool belts are big, and work pants need to be able to accommodate them. That's why manufacturers add some extra size to the belt loops on work pants. Fitting your tool belt shouldn't be an issue.

Sewn-on-Seam Belt Loops
Tool belts are also heavy. To hold up to the wear and tear of such a weighty attachment, the belt loops on work pants are often sewn directly on the seams for added durability.
Reinforcements
Rivets
Rivets are small, round pieces of metal attached to the parts of your work pants that carry a lot of stress. The rivets take on the weight of your bending and flexing while you work, preventing the pants from tearing.

Bartacks
Like rivets, bartacks work to prevent damage to your work pants. They consist of extra stitching added to stress points to prevent tears. They should be easy to spot, especially on blue jeans: just look for the stitches that look thicker than the rest.

Double and Triple-Stitched Seams
Sometimes, bartacks aren't enough to prevent accidental damage to your work pants. Many styles come with double or even triple stitching on the seams to ensure maximum longevity.

Reinforced Knees
Exposed either to thousands of flexes or direct contact with abrasive surfaces, the knees on a pair of work pants take a lot of abuse. Knee reinforcements consist of tough patches of fabric sewn into the knees of the pants that stand up to damage.
Closures
Buttons
The majority of work pants feature two closures at the waist: a button and a zipper. The buttons on work pants, in particular, are heavier and sturdier than normal to hold up to wear and tear.

Zippers
Some zippers offer a locking feature where, if you position the zipper downward, it won't be able to move (and will, therefore, stay closed). YKK zippers are usually the industry standard; their quality and durability are unmatched.
Special Features
Durable Water-Repellent (DWR) Coating
If your job has you working in wet conditions, pants with a durable water-repellent (or DWR) coating are essential. This fabric treatment causes water to bead onto the pants and roll off, rather than get absorbed. You'll stay dry and comfortable as you work.

Crotch Gussets
Need some extra movement and mobility? Work pants with a crotch gusset are a great choice. A crotch gusset consists of some extra fabric (or a gusset) woven into the crotch area. This allows for more comfort and flexibility as you move.

Articulated Knees
Articulated knees are essentially the same as crotch gussets in the knee area. The extra flexibility allows you to bend more easily in an area of your body that naturally bends often. Work pants with articulated knees are particularly useful on job sites with lots of ladders and stair climbing.

Reflective Piping
On-the-job safety is paramount, and sometimes half the battle is visibility. Much like a high-vis vest, reflective piping on work pants reflects light to viewers and helps them to spot you when they otherwise may not have been able to. This can help to prevent a number of workplace accidents.
Industry-Specific Work Pants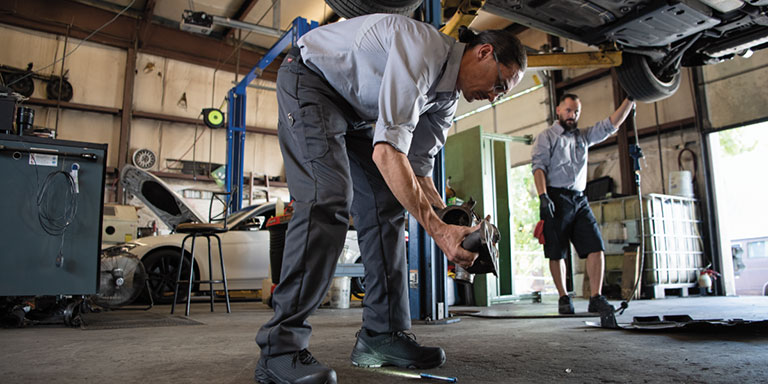 The upper refers to the part of the shoe that wraps around your foot, sometimes extending up to the ankle or calf. The durability, stability and look of the boot is all directly related to the material used in the upper.
Some materials and features work better than others on certain jobs. To get the best out of your work pants (and the most out of your work day, too), consider looking for pants with the following features and materials to match the industry you work in.
Carpenter Work Pants
Typically made from denim or cotton duck, carpenter work pants feature plenty of pockets for tools (and usually a hammer loop as well). Made with a relaxed fit to accommodate movement and flexibility, carpenter pants also feature reinforced belt loops for tool belts. They may even feature built-in tool pouches to circumvent the need for a tool belt altogether.
Construction Work Pants
Construction pants need to feature the best in durability, functionality and safety. As a result, construction work pants are typically made from tough, cotton duck canvas material, featuring sewn-on-seam belt loops, bartacks and reinforced knees. They also feature plenty of pockets to keep essentials close at hand.
Automotive Work Pants
As far as materials go, mechanics prefer pants that feature a blend of cotton and polyester — cotton for the breathability, and polyester for the toughness and stain resistance. A multitude of pockets is also a plus, as is the inclusion of a bit of Spandex fabric and a gusseted crotch — both for added maneuverability.
Dungaree Work Pants
A classic work pants style, dungarees are made from denim and are a great all-around choice for any number of jobs. The heavy cotton denim from which they're made is exceptionally durable, and styles are available with a number of features to choose from, including cargo pockets, articulated knees, crotch gussets, cell phone pockets and many more.
Selecting the right pair of work pants is no easy task. The best thing to do is ask yourself what you need most and then find the features, fit and material to match. The good news is that there's a lot of variety out there, so your next perfect pair of pants should be just around the corner.
Did you find this article helpful?