A Complete Guide to High-Visibility Outerwear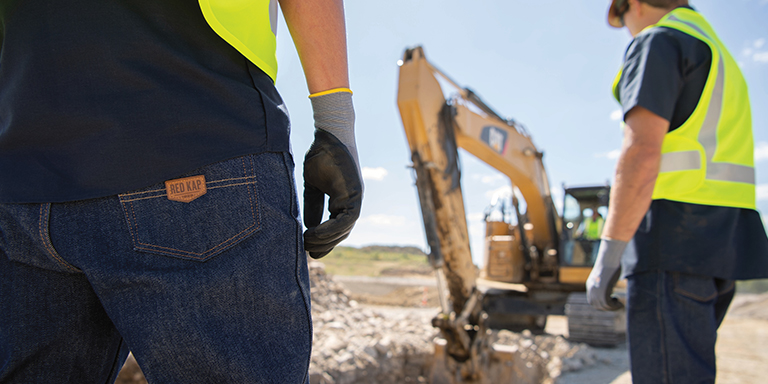 Whether you're a heavy equipment operator, a road surveyor or a construction worker, it is vital that the public is able to easily see you while you're on the job. On roadway construction sites alone, there are, on average, 124 worker fatalities in the United States every year. The use of high-visibility outerwear substantially decreases the likelihood of accidents, especially in low-light or high-traffic conditions.
Wearing the right protective equipment in high risk areas can quite literally save your life. In this guide, we cover everything you need to know about finding the best high-visibility outerwear for your line of work.
Types of High-Visibility Outerwear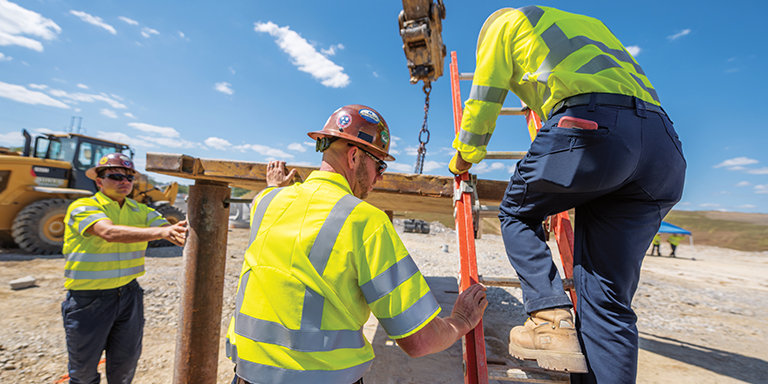 High-visibility outerwear, also referred to as high-visibility safety apparel (HVSA), is clothing that makes you easy to see in both normal and low-light conditions. It typically consists of outerwear with bright fabrics and additional reflective tape. Fluorescent colors highlight your general location while the reflective tape surrounds your torso and arms. The outlines ensure that your silhouette is visible even if oncoming drivers cannot see the color of your clothing.
There are very detailed safety standards surrounding high-visibility outerwear. The best place to start is by checking with your employer to find out the specific HVSA requirements for your assignment. This may vary depending on the jobsite and type of work you're doing. It's important that the high-visibility outerwear you choose is compliant with your employer's requirements.
The ANSI 107 High Visibility Standard presents three performance classes of HVSA based on the amount of visible materials and design attributes. In addition, it identifies garment types based on expected work activities.These are designated as off-road (type O), roadway and temporary traffic control (type R) and public safety activities (type P).
Off-Road (Type O)
Type O garments are the lowest visibility HVSA. They are intended for wear in off-road environments by workers who are not in close proximity to traffic. Type O garments are always designated as Class I as it is the lowest level of reflectivity and visibility allowed on apparel in this standard.
Roadway and Temporary Traffic Control (Type R)
Type R apparel is designated for workers exposed to roadway traffic. If you work in an area exposed to moving equipment/vehicles, this is the safest HVSA for you to wear.
Public Safety Activities (Type P)
Type P apparel is designated specifically for public safety workers and those who are exposed to struck-by hazards like vehicles and falling objects
Both Type R and Type P garments correspond to performance Class II and Class III HVSA.
Occupation
Off-Road Workers
Roadway and Temporary Traffic Control Workers
Public Safety Workers
Type
O
R
P
Performance Class
1
2
3
2
3
Required Background Material
217 in²
775 in²
1,240 in²
450 in²
775 in²
Required Reflective Material
155 in²
201 in²
310 in²
201 in²
310 in²
Width Minimum for Reflective Material or Tape
1 in
1.38 in
2 in
2 in
2 in
Classes of High-Visibility Outerwear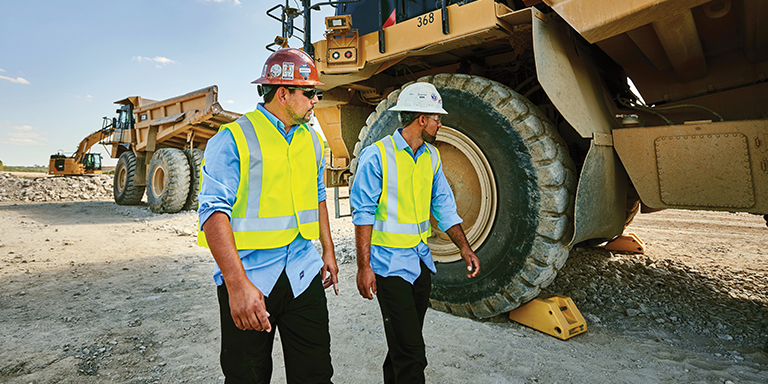 Class I
Class I is the lowest level of HVSA and is intended for workers who are always well-separated from traffic. Per ANSI 107 standards, Class I garments must have at least one horizontal band of retroreflective or combined performance material around the torso. Additionally, retroreflective materials are required either on the shoulders or encircling the arms.
You can safely wear Class I HVSA if you work in low-traffic areas. Class I garments are recommended for:
Parking attendants
Delivery drivers
Warehouse workers
Sidewalk maintenance
Roadside assistance personnel
Class II
Class II garments are designated for those who work in complex conditions and locations where workers can't give full attention to traffic. Class II garments have extra high-visibility materials that allow for better visibility and definition of the body.
Class II HVSA is recommended for:
Roadway construction workers
Survey crews
Utility workers
School crossing guards
Toll gate personnel
Airport ground crews
Class III
Class III garments provide the highest level of visibility to workers in high-risk environments that involve high-task loads, complex weather conditions and traffic exceeding 50 MPH. Workers must be visible through a full range of motion at a minimum of 1,280 feet. Class III garments have additional reflective material and require either long sleeves or high-visibility pants. Garments or vests without sleeves worn alone are NOT considered Class III.
Class III HVSA is recommended for:
Emergency responders
Nighttime workers and operators
Flaggers
Roadway construction and maintenance workers
Volunteer clean-up groups
Utility
Survey crews
Consider Your Environment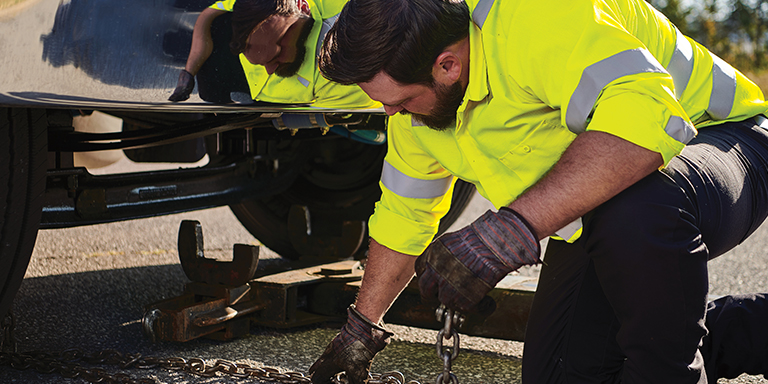 You may have noticed that there is some overlap between performance Class II and Class III. It is important to know that only a select few jobs can safely wear performance Class I garments since they don't offer enough visibility to help drivers spot you during nighttime and in inclement weather conditions. To determine whether you need Class II or Class III HVSA, ask yourself the following questions:
Is there a physical barrier between you and traffic? If not, Class III garments are required so drivers can easily see you.
How fast is the traffic around your jobsite? If speeds exceed 50 MPH without stopping, you need Class III HVSA.
Will you be working during daytime or nighttime? Nighttime work always requires Class III garments.
What are the weather conditions? Rain, fog and cloudy skies greatly decrease visibility and require Class III HVSA.
When in doubt, it's always best to err on the side of caution and choose a higher HVSA performance class than you think you need. Choosing the right high-visibility outerwear is vital to on-the-job safety. The more visible you are to drivers and the public, the safer you'll be.
High-Visibility Outerwear Features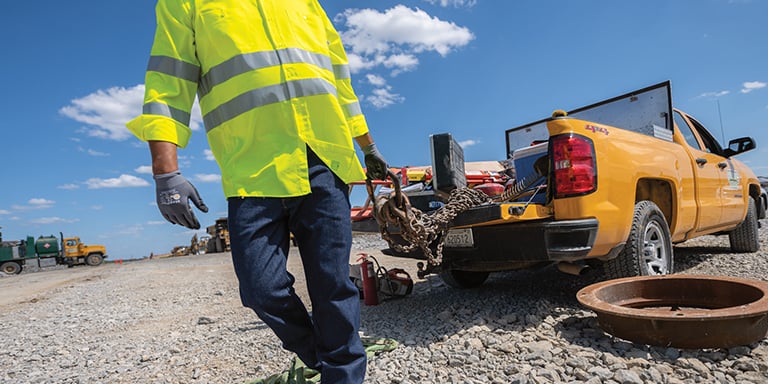 After you've determined the correct type and performance class, the next thing to consider when choosing high-visibility outerwear is the features. The features you select depend on what type of job you're doing and the environment in which you're working. Luckily, there are plenty of options out there; we'll touch on and explain the purposes of the most common features.
Insulation
Cold worksite? When you need to stay warm and visible, there are plenty of insulated high-visibility garments to choose from across all performance classes. The most common insulation materials in high-visibility jackets, vests, hats and gloves include thermal fleece lining and Thinsulate.
However, most workers opt to layer their clothes and wear their preferred winter coat underneath high-visibility outerwear. This keeps out the cold air and traps as much heat as possible without compromising visibility.
Moisture Wicking
Heat exhaustion is no joke, especially when it comes to working safely in the heat on the jobsite. High-visibility outerwear can be the first line of defense when it comes to preventing heat injuries. Vests and shirts with moisture-wicking technology uses tiny, built-in capillaries to pull moisture away from the skin to keep you cool. Not only does moisture-wicking material allow sweat to flow out, but it also allows air to flow in for maximum comfort.
Water Resistance
If you're working in wet conditions, high-visibility outerwear made from water-resistant material is essential. Soft shell high-visibility garments with a water-resistant finish are the best bet in rainy weather. The water-resistant technology used in the fabric causes water to bead onto the jacket and roll off rather than get absorbed. You'll stay dry and comfortable during work.
Selecting the right high-visibility outerwear not only improves safety, it can mean the difference between life and death on the job. Those who work in close proximity to busy traffic and jobsite hazards need to be as visible as possible to avoid accidents. If you aren't seen, you aren't safe. With some due-diligence and the guidance above, you can find high-visibility outerwear that meets your employer's standards and keeps you out of harm's way.
Did you find this article helpful?