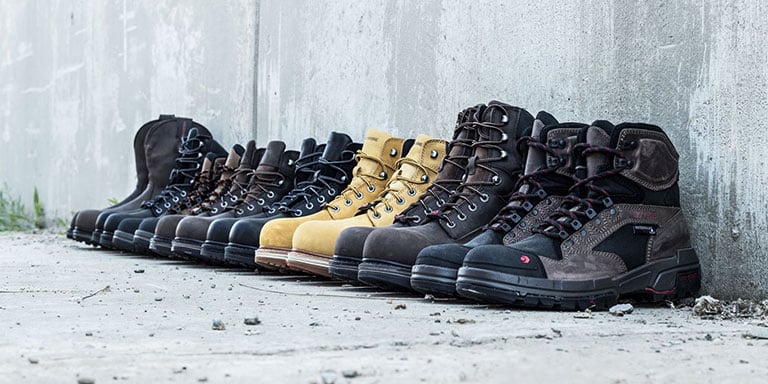 One of the worst feelings? Tired, achy feet after a long day of hard work. Even worse than that? Foot pain as a result of not having the right protection on the job. That's why having the right work footwear is critical. And if you need help with the overwhelming task of picking the perfect pair? Well, that's where we come in. This guide will walk you through the components, features and considerations for finding the style to suit your occupational needs. You never know what your shift will bring, but at least you can be confident your boots can handle it.
Toe Type
When it comes to selecting work boots, knowing what toe type is right for you is one of the most important factors. Impact injuries are serious, and the right footwear can keep you protected. With many different safety toe types available, you'll want to weigh the pros and cons before selecting the boots you'll trust to guard your feet. There are many trade-offs you'll need to consider; a higher level of protection may cost you dexterity and comfort.
Components
Upper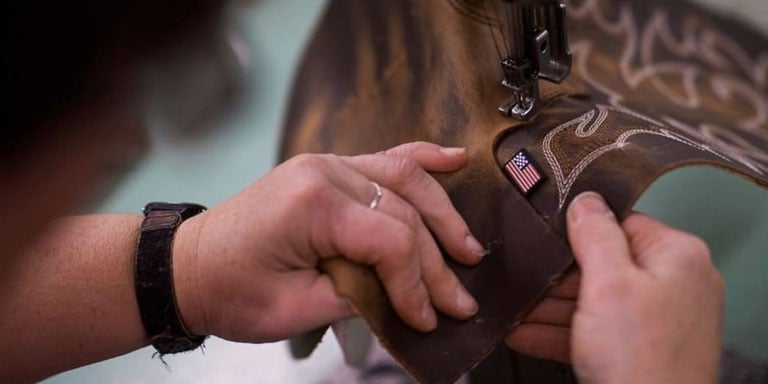 The upper refers to the part of the shoe that wraps around your foot, sometimes extending up to the ankle or calf. The durability, stability and look of the boot is all directly related to the material used in the upper.
Full-grain leather:
Not all leather is created equal. There are many different types of leather, ranging in different levels of quality. When searching for a rugged pair of leather boots, look for the full-grain callout. Full grain leather is considered the highest quality of leather because it contains the entire grain of leather without anything removed. Instead of succumbing to wear-and-tear, it develops a handsome sheen. It's durable, good looking and ages exceptionally well.
Split-grain/suede leather:
Split-grain leather is another great choice to look for. Made from the flesh-facing portion of a cattlehide, it's thinner and softer than full-grain leather. It's not waterproof or as supportive as full-grain leather, but it is lightweight and more breathable. You'll often find it paired with nylon or mesh to reduce the overall weight of a work boot or shoe.
Nubuck leather:
Made from the outside portion of a hide, nubuck leather is similar to full-grain leather, however, is buffed to look like suede. It gives the fuzzy look and feel of suede that many favor aesthetically, without sacrificing much durability. Supportive, water-resistant and abrasion resistant, it's a great choice if you want rugged work boots that have a stylish look and flexible feel.
Genuine leather:
When it comes to leather, you get what you pay for. Genuine leather is less expensive than other leather options. However, it's one of the poorest grades of leather. An item made of genuine leather is simply made of animal leather (as opposed to synthetic leather). It's often produced from leather scraps or leftovers. Shop leather work boots
Synthetics:
While synthetic materials are not as durable as leather, they boast the huge benefit of how little weight they add to your feet. These materials, such as nylon and polyester, are known for the comfort and breathability they bring to work footwear. Not only are synthetic work boots generally lightweight and easy to break-in, they also allow you to be quick on your feet. If your job requires agility over durability, footwear crafted from synthetic fabric is the way to go.
Midsole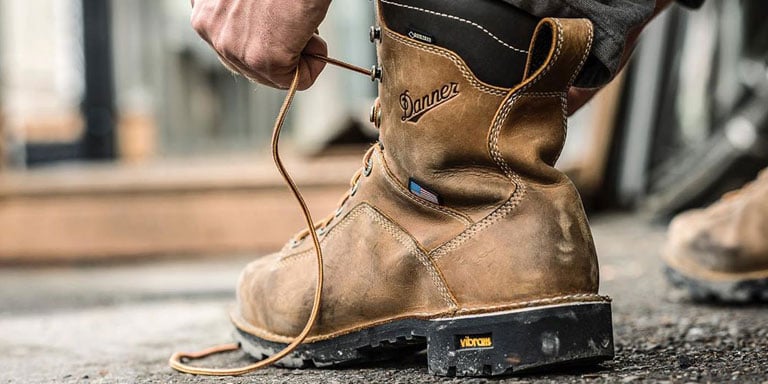 The midsole encompasses the area between the outsole and the upper. As you can imagine, this component plays a big part in determining comfort. Read about common midsole materials below to find the right fit underfoot.
Ethylene Vinyl Acetate (EVA):
EVA is one of the most common midsole materials found in work boots. Comfortable and compression-resistant, EVA can help ease foot pain. It will break down and lose form over time, but an aftermarket insole can fix that. Shop work boots with EVA cushioning
Polyurethane (PU):
Polyurethane is denser and heavier than EVA. As a result, it will keep its form over a longer period. They tend to be pricier than EVA midsoles. Consider a PU midsole to avoid wear and tear in your boots.
Shanks:
A shank is a plate, usually made from metal, embedded into the midsole of a boot. They offer puncture resistance as well as balance and stability. Shop work boots with steel shanks
Outsole
The outsole is the part of your footwear that makes direct contact with the ground. The type of outsole on your boot can protect you from hazards such as puncture wounds, as well as give you the traction and composure you need on an uneven or slick surface.
Rubber:
Rubber is a common outsole material. Grippy, flexible and ideal for working around electrical hazards, rubber outsoles hold their form and offer unparalleled traction on uneven surfaces. One of the most popular outsole types is Vibram. Vibram makes a proprietary rubber blended with a springy foam, and its outsoles can be found on the top work boots styles across many iconic brands.
Lug / tread patterns:
Lugs are the grooves and indentations on the bottom of outsoles. The tread pattern of your footwear can greatly affect your performance. Large, wide lugs add stability and durability. Small lugs are excellent for shedding mud and debris while working outside.
Slip resistance:
For many labor-intensive occupations, such as restaurant employees, mechanics and construction workers, slip-resistant footwear can prevent a workplace accident. Slip-resistance outsoles have been tested for adhesion and resilience. Look for this safety rating to stay stable and surefooted. Shop Slip-resistant work boots
Features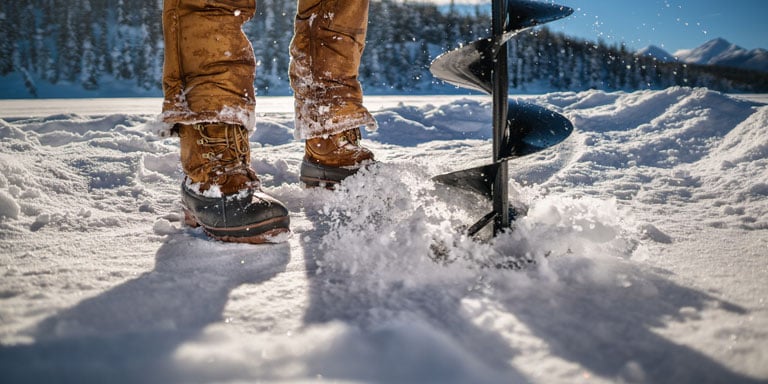 Insulated Work Boots
Chilly worksite? It's hard to focus on the job when your feet are frozen. That's where this feature comes in handy. Insulated boots are typically lined with Thinsulate, a synthetic fiber that will block cold air and keep feet toasty. Thinsulate is measured in grams and ranges from 200G to 1000G. The higher the number, the more insulated the boot. So which level is right for you?
200 grams: Recommended for cool conditions or high activity levels. It's ideal for putting in overtime during the cooler summer nights.

400 grams: Recommended for cold conditions or moderate activity levels. This amount is perfect for working outside in the fall.

600 grams: Recommended for very cold conditions. Once the first snow falls, this amount is great for keeping feet warm.

800 grams: Recommended for extremely cold conditions with light activity levels. We would suggest this amount for wintery conditions on the job.

1,000 grams: Recommended for extremely cold conditions with light to minimal activity level. It's excellent for maneuvering through snow and ice.
Styles
Fit Tips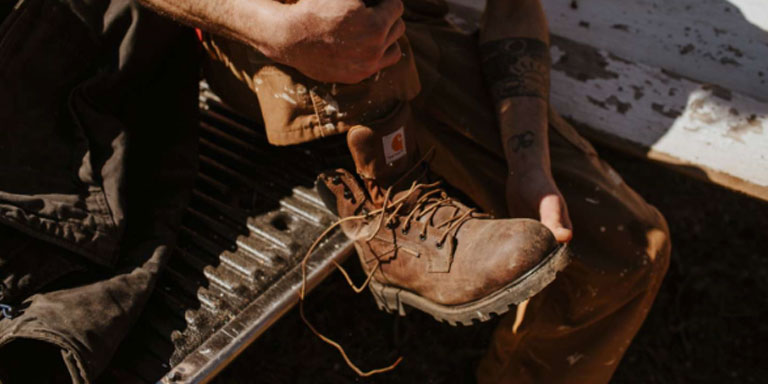 The following tips will help you get that perfect fit.
Use a Brannock device
The best way to determine your foot size is by using a Brannock device (an oblong, ovular tool with sliders to measure the length, width and arch of your foot). Use one to find the exact measurements of your feet, which will be useful when choosing your size. Size is determined by the length of your foot and is different for men and women.
Find Your Width
Most work footwear will come in various widths, from "extra narrow" (B) to "triple wide" ("EEE"). However, these width classifications aren't always consistent. Brands will classify widths differently, so it is important to check your measurements against the conversion chart for each style.
Consider a brand you're familiar with
Each brand is different. However, they tend to make their own footwear fit consistent across their whole line. If there is a brand you have worn before and like, chances are other footwear from the same brand will have a similar fit.
Try your boots on in the afternoon
Throughout the day, our feet take on enormous pressure. By late afternoon, your feet will have swelled a significant amount. To avoid buying footwear that becomes uncomfortably snug by the end of the day, try boots on at the end of the day.
Socks
When you try any footwear for the first time, you should wear the socks you plan to wear consistently. The material, thickness and feel of your sock can really affect the way your feet fit and feel in your boots.
Try aftermarket insoles
Comfort is not something to compromise on. Aftermarket insoles really go the extra mile when it comes to personalized fit and comfort. They might also add the right touch of snug to loose boots.
General Fit
It may seem like common sense, but your toes shouldn't be pressed against the tip of your boots and heels should not slide around — you'll end up with blisters if they do. Be sure to walk around in your boots and make sure your heel is not rubbing the insole as you walk. Make sure your toes have room to splay and aren't squeezed together. Before purchasing, keep in mind that safety toe boxes will take up a bit of space, so if you are inbetween sizes, size up. Remember that if it's mildly uncomfortable during an initial try on, whether that be too much space or too little, this will only be exacerbated while wearing for a longer duration.
Breaking In
Not all work footwear is comfortable right out of the box. Stiff leather and responsive insoles will often take a break-in period before they adjust and conform to your foot shape. It's always recommended to spend time walking around in your boots before you wear them on the jobsite.
Your work boots are the very foundation of your day. With every step, your footwear absorbs the weight of your body. Labor-intensive occupations put even more stress on your footwear — not to mention the added jobsite hazards like potential impact, electrical and puncture injuries. The guidance above, paired with some research and due-diligence, will help you find a pair up for the challenge.
Did you find this article helpful?